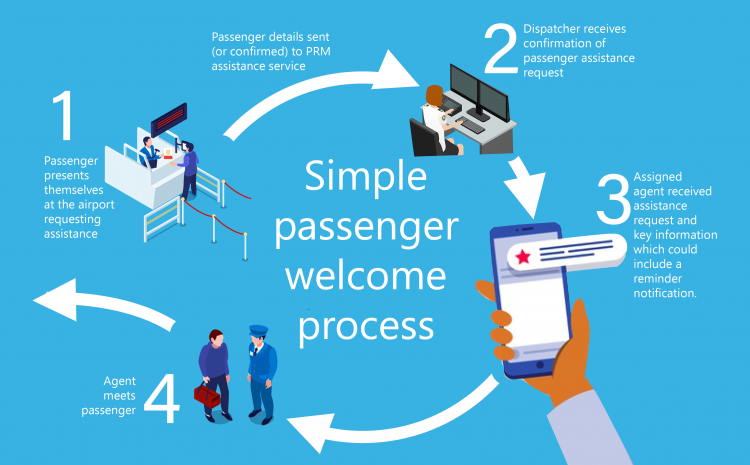 Humanizing the experience for passengers with reduced mobility
When deployed and embedded into a travel assistance service, PRM software can quickly grow into the backbone of a successful airport PRM operation. Several pre-defined goals are set when the decision of installing PRM Manager is taken:
Resource Efficiency
Passenger Planning
Operational Profitability
The Passenger Experience
The latter is, to a certain extent, a by-product of a smoothly run operation. Where the passenger's journey is seamless, their expectations throughout their entire journey were met. Technology can, and does, improve resource efficiency, passenger planning and a multitude of other elements which contribute to the overall passenger experience. But there remains a fundamental component that technology cannot, at least for now, replace: The soft-skills and emotional intelligence of a passenger handling agent.
The PRM process in its simplest form
When a passenger presents themselves requesting assistance at an airport, a dispatcher is informed that assistance is required (or that the pre-notified passenger confirmed) through the PRM software. The dispatcher then assigns the passenger to one or more agents depending on their required assistance. The designated agent(s) will receive a notification on their PDA which presents essential information including:
The Passenger's Name
Flight Details
SSR Code (used to defined the type of assistance desired)
What steps the agent(s) will take to assist the passenger
The assigned agent(s) will meet the passenger and assist them onwards. This is the everyday procedure for a passenger service agent.
Agents are however, unsurprisingly, human. And like most of us they are prone to making unintended mistakes. The likelihood of human-error increases during peak periods when attending to back-to-back passengers, resources become stretched and as they approach the end of a shift.
During these moments a seemingly small, accidental error or slip of the tongue can have a detrimental effect on the passenger experience. While no one would accuse an agent of deliberately saying something inappropriate, and for the most part, they probably instantly recognised their own error. One thing is for sure; the effect and consequences can be far longer lasting for the recipient.
Avoidable errors
Unconscious errors can diminish a passenger's experience and are often the reason for passenger complaints in both traditional and social media. Broadcaster, columnist, disability care & mental health campaigner Dan White recently tweeted:
"Can I please please please please go one day without someone asking me: "What's WRONG with your daughter?" There is nothing "WRONG" with her. Governments change, the world turns but out of date & offensive disability language remains".
Consider the following real-word examples that shouldn't occur yet are prevalent:
An agent speaking excessively loud to a visually impaired passenger
An agent taking a hard of hearing passenger's arm to guide them
An agent using visual cues with visually impaired passengers
Ignoring the passenger and only conversing with their travelling companion
Inappropriate affection given towards service animals
The assumption that an elderly passenger cannot perform certain tasks, etc.
Rob Trent, Managing Director of
www.ccessAdvisr.net
,
extends on such experiences with his frustration "One of my petpeeves is when someone pushes my wheelchair without asking me first".
Starting the positive passenger experience from the get-go
It may sound obvious that a visually impaired passenger shouldn't be given directions with visual cues, or a hard of hearing passenger needn't be held by the arm. However, in a stressful moment anyone can unconsciously make a mistake and while it may seem harmless, we must put ourselves in the passenger's shoes to truly appreciate how the projected insensitivity or oversight of a disability can make someone feel and contribute to that passenger's experience.
A simple solution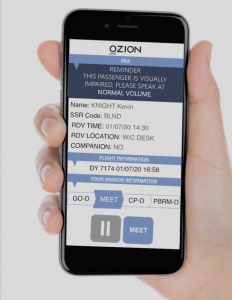 Upon receiving that first notification via PDA, the agent has access to the key information before meeting the passenger. A simple notification linked to the assistance requst can act as a reminder on how to interact with the passenger according to their assistance request.
Examples of such notifications could include:
The passenger is hard of hearing, they do not need to be physically guided
This passenger is visually impaired, please remember to speak at usual volume
This passenger is visually impaired, avoid visual cues
Remember is travelling with someone but do not exclude the passenger in your questions and discussion
Remember to behave appropriately with service animals
Remember to ask if they need assistance with their chair


Such notifications may seem obvious and far from a ground-breaking feature, but they are suggested as a means to remind and avoid inappropriate behaviour that can negatively affect what all PRM services strive for; a positive passenger experience
Sign up for the 5th edition of PRM Leadership Conference and receive the:
 'No-Show Report: 1,000,000 Passengers Analysed.'