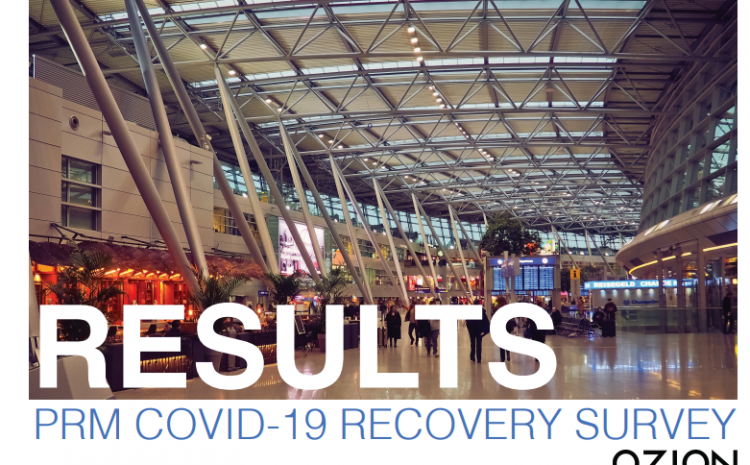 Survey Results: PRM COVID-19 IMPACT AND RECOVERY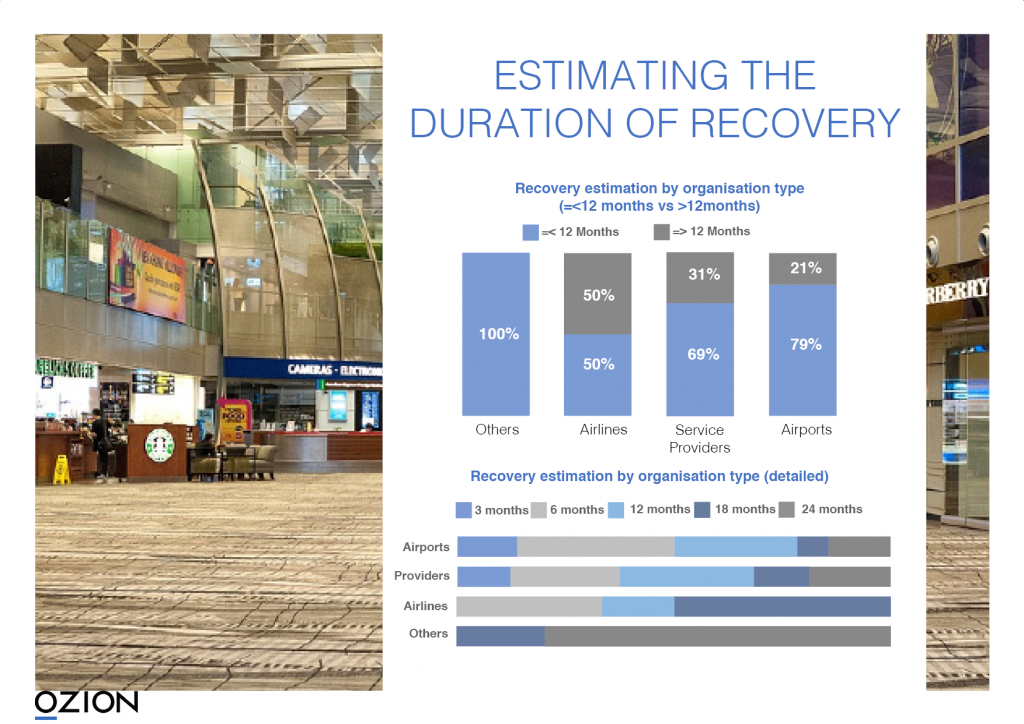 Download the entire results presentating PDF
[download_after_email id="6372″]
Slide 3:
Survey
Ozion's 'PRM COVID-19 Recovery Survey' explored the implications of the ongoing pandemic on PRM operations (Passengers with Reduced Mobility) along with the consequences and reactive measures applied by aviation stakeholders.
A collective desire among participants has provided a comparative insight into how airports and service providers have adapted their operations and drafted best practice policies as the world of air travel progressively emerges from a state of collapse to recovery.
The results presented are derived from a targeted sample of 52 key PRM stakeholders (B-level, C-level), including representatives from airports, institutions, airlines, authorities, regulators, and service providers.
Slide 4:
Operational recovery is widely expected within 12 months
61% of total survey participants anticipate operational recovery within a 12-month period.
At 79% vs 69%, airports possess a favourable outlook compared to service providers over this period.
Slide 5:
Conflicting ideas from 'others'
Participating airlines conflict in their estimations – 50% v 50%.
100% of participants from 'other' organizations (including; regulators, institutions, consultants and authorities…) stated their expectation of a recovery period exceeding 12 months.
Slide 6:
PRM Size vs Recovery Estimation
When investigating the estimated time of recovery by PRM size (defined as total number of PRMs assisted annually), there is a clear indication that those with smaller volumes anticipate a quicker recovery.
All survey participants assisting < 50,000 PRMs anticipate recovery within 12 months, 80% of which expect service recovery within a 6-month period.
70% of services/airports that assist 50,000-149,000 anticipate recovery within 12 months, 50% expecting a 6-month recovery
Uncertainty presents itself in the 150,000 to 499,999k bracket where 50% maintain a 12-month recovery estimation.
Slide 7:
April saw the biggest closure rate
Comparisons between PRM volumes in 2019 vs 2020 show:
9% of respondents experienced a complete interruption of service in March 2020. 41% stated they remained operational at 50% or lower PRM traffic compared to the same period in 2019.
April 2020 saw the largest impact on PRM operations among survey participants. 48% shared that PRM operations had a complete interruption (-100% vs April 2019). 77% of respondents had experienced -90% PRM traffic during this period.
A resumption of service was indicated in May where complete closure reduced to 29% of participants, the slow reopening of service saw 48% (+19%) operating at -90% of May 2019 traffic.
Slide 8:
PRM traffic looks set to gradually return in July 2020
The trend continues in June 2020 (vs June 2019). 100% closures are reduced to 14% of participants, a small change occurs in those operating at 90% (-3%). The significant change is the increase in operations witnessing -70% traffic with 23% of participants indicating a 'positive' trend)
June indicates the first occurrence of traffic performing at 50% or less  during the same period as last year.
July 2020, 30% of participants anticipate -30% PRM volumes compared to 2019, 50% remain at -90% but only 10% expect to remain at complete closure of service.
Slide 11:
The anticipation of contract revisions are not mutually shared
A contrasting vision towards the contract renewals/revisions has emerged:
Only 46% of airports vs 64% of service providers anticipate that existing contracts will be revised.
Upon investigating any potential commonalities (geographic location, PRM volumes.) among airports and providers and their stated expectations, none could be found.