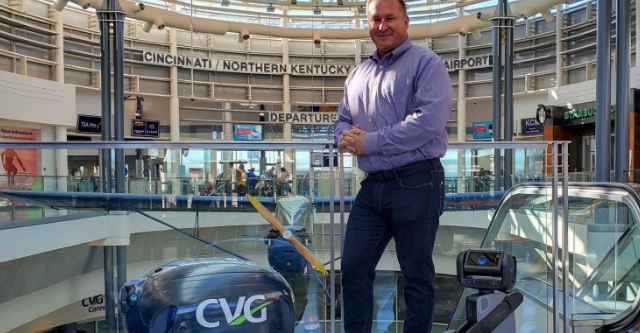 Chief Innovation Officer Brian Cobb From CVG To Speak at 5th Annual Airport PRM Leadership Conference
Brian Cobb brings over 29 years of aviation experience, working in both airline and airport sectors to this year's conference. The native Cincinnatian joined CVG (Cincinnati/Northern Kentucky International Airport ) Airport in July 2010 and now oversees the Airport's team of professionals working in the fields of Customer Experience and Terminal Services, Information Technology, and Innovation programming. His deliverables include the creation of strategic competitive and experience advantages through effective facilitation and acquisition of talent and technology. The surrounding Region's status relies heavily upon CVG Airport's transportation advocacy, influence, economic excellence and service superiority.
A stimulating and absorbing presentation  is anticipated as Brian will address 'Provoking PRM Thought Leadership and Personalization'.
Despite pandemic constraints, organizations and industries have a unique and time-limited opportunity to provoke thought leadership around PRM solutions. These solutions must be interwoven with personalization. The last year has witnessed a tsunami of virus protections beyond our wildest imagination. Yet 2020 will still bear out many of the same limitations around PRM as the years before that. Why is this? Aviation is fully aware of forecasted global increases in aging population, obesity, and disabilities but it has yet to comprehensively address the PRM consumers' needs. In marketing terms, this is far from establishing consumer confidence in a brand. With the lag in travel volume, the industry can leverage this unique opportunity for viable testing and solution scalability. Win back consumer confidence with safe, secure, and now healthy flying? Of course, but let's do it while demonstrating our industry downturn is an upswing opportunity in personalization for guests of all abilities.
Register your virtual seat for the conference here