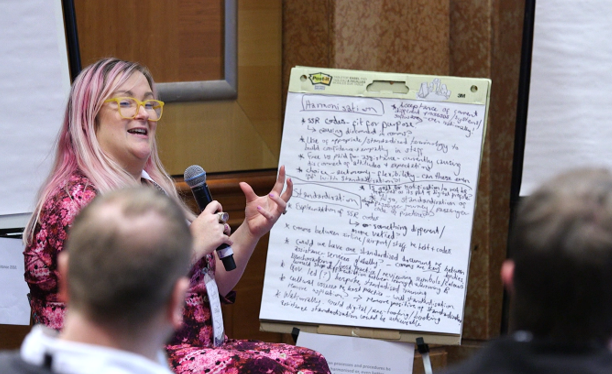 Whiteboard Session Discoveries
During the 7th Annual Airport PRM Leadership Conference delegates were invited to discuss, brainstorm and share ideas on pre-selected concepts during an interactive whiteboard session. The room was divided into three working groups with each moving from one whiteboard to another in 7-minute intervals.
The results were stunning, the level of involvement and discovery was off the charts. There were three specific topics led by the three amazing moderators below:
Defining change-management methodology to influence tech innovation – moderated by Jerry Angrave – Customer & Passenger Experience – consultant and trainer – Empathyce Customer Experience consultancy
How can processes be harmonised or standardised to a common global framework – moderated by Emily Yates – Head of Accessibility and Inclusive Design at Mima
Assistance Plan 2050 Vision – moderated by Geraldine Lundy MBE, Director at Accessible Travel Consultancy Ltd
As ideas and opinions flowed the whiteboard moderators expertly guided the discussions and noted key points to summarise at the conclusion of the session.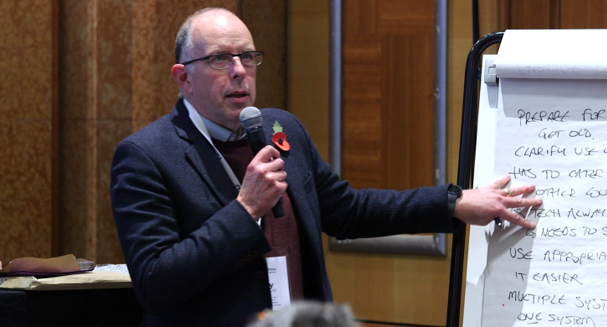 Defining change-management methodologies to influence technological innovation
Key inputs and thoughts shared for Defining change-management methodology to influence tech innovation:
Be clear about the problem that is being solved through technological application and try to resist an attraction to "shiny new tech simply because its shiny new tech". The general consensus from participants was that adopting technology based on such attractions or impulses would quickly become obsolete as the world/industry would have moved on by the time it has been implemented.
An alignment and correct mindset for change management was considered pertinent. Management should be prepared for a bumpy road; solutions shouldn't be expected to occur 'overnight' and one should remain mindful that disruption is possible and should be prepared for.
Both internal and external communication was considered important, including trade bodies, colleagues and passengers.
Don't be afraid to try, get on and do it, doesn't have to be perfect but that comes with a cultural approach for many organisations
Explore and look for others whom have already used similar technology, use their utilization as the proof of concept.
Broaden the view, look outside the aviator sector to see technological adoption and benefits, tech and change management methodologies can be seen beyond the aviation industry.
Use data as evidence for change but bring to life with stories, this will assist to secure buy in.
How can we as a single airport help other airports to drive change across the industry and collaborate with each other.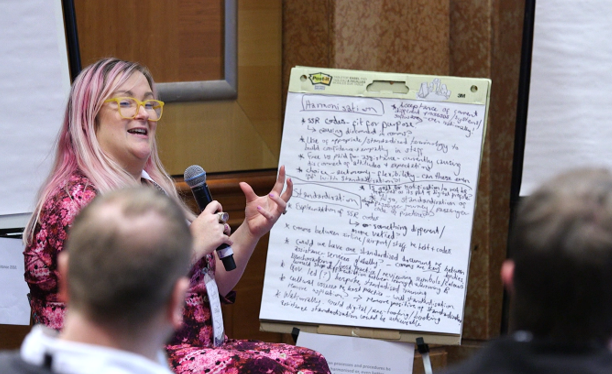 Emily Yates guided the discussion around How processes can be harmonised or standardised to a common global framework.
Are SSR codes fit for purpose today or are they creating a disconnect – what would something more varied or standardised look like?
Needing to accept, lots of currently available technology is not necessarily compatible or cross functional, creating a globalised standard of software adoption would be a considerable task.
Using Appropriate terminology to build confidence, harmony and empathy among staff
The paid versus free assistance service is creating a disconnect between experiences and expectations both for staff and passengers
Importance of choice, autonomy and flexibility and actually whether they can fit in a standardised model
Standardisation
Ultimately the goal for notification not be required at all, could there be standardised digital profile?
Wondered whether better standardised elements of the passenger journey could help standardise passenger behaviour
Need to standardize communication between airlines, airports in the area of texts and codes. One standard document for the industry that can be applicable globally.
Importance of benchmarking and best practice. Reviewing symbols, colours and cultural issues with a goal of standardisation. Even with government led bespoke training, taking into account cultural issues in full global standardisation. How to reinforce the positive and create an aspiration to go above and beyond. Currently the ceiling is too low.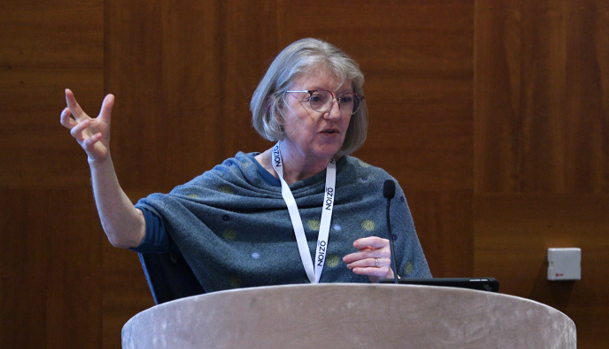 Our good friend and exemplary leader, Geraldine Lundy, led the dive into the Assistance Plan 2050 Vision discussion.
How many passengers will be requesting assistance by 2050? – while an aging population is inevitable solutions for self-service and the elevation of autonomy are expected. Some form of modelling may be needed to have an insight into how many passengers will potentially need assistance by 2050.
Before any masterplan is undertaken, things need to be accomplished as a whole across industry to drive universal design for airports, aircrafts, not just assistance.
Systems that talk to each other.
Intelligent buildings – tech embedded to drive predictive behaviours, signage changing based on arriving passengers from certain flights, profiles, etc.
Standards driven by ICAO, ACI, IATA, etc.
Pre-notification –standards would improve if pre-notification improved, but then a contradiction presents itself; why should passengers need to pre-notify in 2050? Smart tech could predict what will happen at the airport and journey.
Journey begins much sooner, even before a passenger books a flight
Work with people with lived experience, in our industry every effort should be to going to people with lived experience
Manage expectations – for passengers but also SLAs, KPIs and turnaround times. We all want to get to excellence but must manage expectations.
All-in-all, the whiteboard session showed an abundance of ideas from key stakeholders within PRM operations and while potential solutions are plentiful so are the challenges and resistance. For those who can drive change, there is a willingness to collaborate and work towards a cohesive and improved industry.
The seed of change planted at the Ozion Airport PRM Leadership Conference is thriving! We are looking forward to seeing this debate continue to evolve at the Passenger Terminal Conference in Amsterdam, proudly sponsored by Ozion. On Day 2 of the Conference, March 15th, a new deep dive into the future of accessibility in air travel will take place during the Accessibility segment of the Customer Service track.
Thank you to everyone who has and continues to push forward with ideas and solutions to improve the service for passengers requesting assistance in our airports!