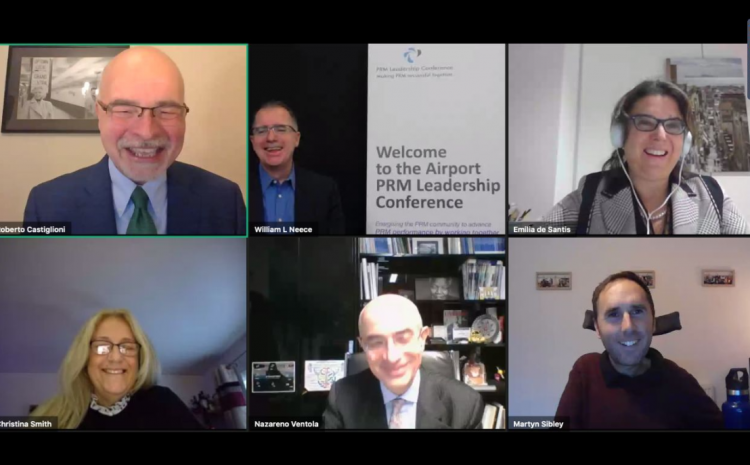 Airport PRM Leadership Conference – Thank you
The 5th Annual Airport PRM/Assisted Operations Leadership Conference was always intended to be a milestone event and 2020 certainly threw some hurdles to what the event hosts, William L. Neece and Roberto Castiglioni, proudly organised and delivered as an interactive event that touched on pertinent topics for airport assisted service operations in a physical environment.
With the pandemic spreading rapidly and globally, an early decision was made to transition to an online environment.
Such a transition immediately opened up the event. It ironically became more accessible itself as Airport Accessibility Manager at Alicante Airport Belén Gisbert Sánchez remarked; "this was an opportunity to easily attend, without travelling". A sentiment echoed by Assistant Airport Manager at Republic Airport, Michael Clow who in his post-event remarked; "Thanks for making this virtual. I would not have been able to participate otherwise. Maybe consider a hybrid of both in person and virtual for the future?".
Social media RSVPs surpassed 800 with 500+ people from 72 countries registering their virtual seats. Professionals from the USA, UK, Canada, Mexico, Costa Rica, Brazil, Peru, France, Norway, Saudi Arabia, Qatar, Cambodia, Russia, Japan and New Zealand, to name a few, transformed the event into a global melting pot of PRM stakeholders. Never had the PRM Leadership Conference seen such an abundance of knowledge, expertise and experience among attendees – something the organisational team valued and leveraged to bring audience members onto the virtual stage through questions posed.
The event itself was organised into two sessions, the first day consisting of presentations from purposefully selected speakers, known for their areas of expertise. Day 2 presented an alternative setup, panel members discussed subjects of interest, topics voted on by attendees two weeks leading up to the event whereby 62% voted for 'PRM Data and Decision Making', 50% for Airport Accessibility design, 49% for 'the difference between European and North American PRM Services' and 42% for 'How to measure own or service provider service level' among many others.
Highlights from Day one included:
Martyn Sibley (Purple Goat Agency) shared individual challenges and the massive opportunities for the sector. We humans thrive on our comfort zones. When an airport or an airline treats us with dignity and respect, we stick to them, no matter if they are cheaper or more expensive than their competitors
Brian Cobb (Cincinnati/Northern Kentucky airport), who is regarded as one of the brightest minds in the airport industry, took the audience into the future of customer care and assistance. It is no mystery that solutions today seen as futuristic where already being trialed at CVG years ago. Appreciated by many, including: Sarah Faulkner" -of South West Airlines who commented " I loved seeing the innovation in CVG. I'm also intrigued by the influence IATA can have on ensuring that SSRs are used appropriately".
Tariq Kamal from New Delhi airport brought us all to current challenges of the Pandemic by sharing brilliant solutions his airport found to become a COVID-Free facility for all customers. From the many questions received, it is safe to say New Delhi airport's award-winning solutions have had a massive positive impact on the audience.
Dr. Jennifer Camulli (EXPO 2020 Dubai) took the audience through the ideal journey of a person with a hidden disability, sharing useful tips on how to manage and deliver information as well as making the airport's critical touchpoints easy to navigate. Mary Doyle of Rocket Girl Coaching sharing her appreciation with "Jennifer's covering of the UN SDG never happens in these PRM discussions, which I really appreciate as we need to approach these business problems holistically. The attitudes of the speakers were refreshing and not patronising when discussing disability, they came across as allies."
Linda Ristagno (IATA) shared recent and future positive developments the airline's trade association has brought about in terms of policy and procedures. IATA's commitment to deliver accessible air travel is testament to the association's determination to promote equality and inclusion in air travel.
William Neece (Ozion) technical presentation highlighted how IT is the foundation upon which excellent customer care and assistance is built. In his presentation he clearly explained how IT resolves operational challenges and how it helps create a positive cooperation between stakeholders which in the end increases the quality-of-service output whilst driving efficiencies.
Laurel Van Horn (ODO) helped the audience understand how to measure customer satisfaction among persons with disabilities and the ever-growing segment of over 65's. Knowing your customers is essential to better care for them!
The first day ended with the Ozion Accessibility awards, attendees watched three videos presented by nominated airports and were invited to vote on their favorite solution implemented by: Bologna International Airport Liverpool John Lennon Airport Napoli International Airport. Bologna received the most votes taking the award. Managing Director and CEO Nazareno Ventola praised Emilia de Santis and Christina Smith for the initiatives taken in their airports. Later, Angela Cicognani expressed that "Bologna Airport is very proud of the recognition, the attention on PRM passengers is, for us, one of the priorities. We are focused on a 360° point of view, trying to do our best to increase the offered services for PRM passengers benefits."
Day 2 was presented in a different format, intended for panelists to explore various topics in-depth. The panel consisted of:
Phil Burke, Assistant Director, Customer Experience, MSP Airport Tim Joniec A.P., C.M, Director of Government and Stakeholder Relations Houston Airport System Ridge Pereira, Systems Project Manager, Wilson James Gina Emrich, Director of Passenger Experience, Open Doors Organization William L. Neece, Director of Airports, Ozion Airport Software
Reflecting back on the event, Thekla Georgiou of Hermes International Airports shares her thoughts "A very well-organized conference, which exceeded my expectations for an online summit! The presenters were all professionals and their presentations comprehensive. Exemplary time keeping by the organizer. Looking forward to next year's conference! Ruth Allende Linares at Aena commented "The panellists, the topics, and your passion on the matter make this yearly meeting a success. Ozion's event is a must for anyone working on accessibility".
But perhaps the spirit and purpose of the conference is best summarised by Airport Accessibility Manager at Alicante Airport Belén Gisbert Sánchez; "It's really necessary for everyone dealing with PRM to have these things, as we want disabled people to feel and find the same everywhere, and we can't reach that goal without working as a team and sharing our experiences".
The conference recording is now available online here and speaker presentations can be accessed here
Everyone at Ozion Airport Software/Airport PRM Leadership Conference would like to thank the speakers and attendees for offering their experiences and time over the course of the two days.
Day 1 recording

Day 2 recording