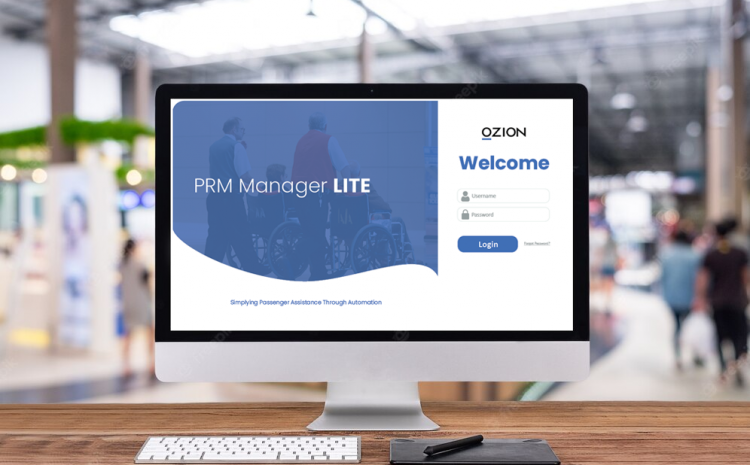 Ozion aims to make assisted passenger service digitization the norm for smaller operations through PRM Manager LITE
Passenger Assistance Services across the aviation sector continue to digitize, yet this transformative journey remains predominantly led by substantial operations serving larger airports. Meanwhile, smaller, yet equally vital services, have often been presented with a discomforting barrier to entry in their pursuit of digital transformation.
In an effort to lead digital adoption Ozion Airport Software announces the delivery of a light-weight version of its flagship product; PRM Manager. Aspiring to deliver operational control, passenger visibility and a measurable ROI to micro-PRM operations.
Director of Airports William Neece sets forward the company's motivation to adapt its software offering:
"It is quite ironic that in the sector of accessibility, where we are all striving towards a common goal of better passenger experience, digitization remains prohibitive and inaccessible for many. PRM Manager LITE aims to change this, digitization and access to accurate data should be accessible to all".
Who is PRM Manager LITE for?
Any Passenger Assistance Service aiding 5,000+ passengers will reap an immediate benefit in the removal of manual processing, operation automation, accurate record keeping and billing.
What is delivered in PRM Manager LITE?
An Ability to Fully Manage the Service from a Mobile Device
A Transition to Digital Monitoring with removal of manual processes
Real-time SLA Monitoring
Airline Notification Rate Monitoring
Accurate data stamps and jobs for Billing
Automation of IATA Type B messages / passenger orders
Automation of Job and task generation
Simplified Navigational Tools and interface
Automated and/or Manual Milestoning
Instant and Easy Agent Dispatch
Real-time passenger journey tracking (volumes and assistance)
+36 hours passenger volumes and assistance type visibility
Access Airline notification and passenger volume reporting tools
All standard tools with optional advanced tools that can be unlocked as and when the operation grows.
Learn More…
Transitioning into a digital operation and reaping the operational rewards is no longer an investment heavy undertaking. If you are interested in learning more about how PRM Manager LITE can help improve your operational control, passenger journey tracking and reporting visit here https://www.ozion-airport.com/ozion-lite
About Ozion: Founded in 2004, Ozion Airport Software has grown to become the trusted software developer and solution for some of the world's largest Passenger Assistance Operations, including; London Heathrow, Gatwick, Paris CDG and Orly.